Incident Investigation and Root Cause Analysis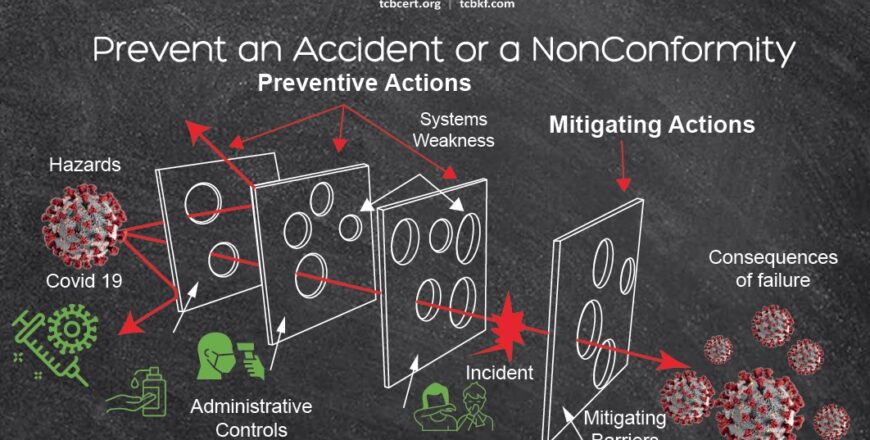 About Course-
OH&S awareness training course aims to provide understanding of Occupational Health
and Safety Management System, the content and interrelationship of ISO 45001:2018
to ensuring a Safe and Healthful Work Environment for People.
This course will help you to develop a great understanding of OH&S Management system
.This is could be the starting point if you wish to develop your career in Occupational Health
and safety .The course is offered in tutor guided face to face session and fully tutor
delivered virtual live class room. Join for an incredible experience of learning
You may also join a NEBOSH IGC course offered by TCB
This could would make you ready to join an ISO 45001:2018 auditor /Lead auditor course
and build a strong career in OH&S .
Course Objective-
 Understand the purpose of Occupational Health and Safety Management System, the
content and interrelationship of ISO 45001:2018 standard
 Ensure a Safe and Healthful Work Environment for People
 Correctly interpret the ISO 45001:2018 requirements.
Course Duration:
16 hrs course duration can be spread over 2 days or extended number of days for
shorter duration per days. Lunch,refreshment time not considered
part of seat time).Programs can be customized for 2-4 days to suit organizational
needs.
Examination-
 A short examination will be administered at the end of the course. The examination
would cover the topics covered in the course and would last for one hour. The pass mark
is set at 60%.
 A "Certificate of Successful Completion-of ISO 45001:2018 Awareness program" is
awarded to delegate who satisfactorily completes the course with 1.6 IACET CEU as per
ANSI/IACET 1:2018 standard You may be interested with our other Occupational Health Safety Courses.Please contact tsa@trcbl.com
Approval:
TCB offers this training and certification as an IACET USA Accredited Provider.This course has
been designed and developed by TCB as per ANSI IACET 1:2013 Standard and administered in
accordance with the requirement of ISO 17024, an international standard for Certification of
Persons . TCB is accredited by the International Association for Continuing Education and
Training (IACET). TCB complies with the ANSI/IACET Standard which is recognized internationally
as a Standard of Excellence in Instructional Practices and with this accreditation, TCB is
accredited to issue the IACET CEU .This course shall be presented as a fully tutor guided course
with IACET CEU Credit point 0.
OH&S Terms and Definitions
 Concept of Hazard, Risk, Risk assessment and Controls.
 Clause by Clause interpretation of ISO 45001:2018 standard with examples
.
What to Look for as Evidenec of Conformity-Where to look at for .
 Conformity Assessment Case stuides .
 Quiz/Written Exam.
What is the target audience?
Top Management personnel to understand the scope and coverage of the standard and
their role in supporting implemtation of a robust HSEMS
 Those who wish to develop a career as Occupational health and Safety professionals,
 Project managers , site construction engineers and supervisors can also join to perform
their HSE role and create a safe and healthful place of work

Certificates and Badges You Achieve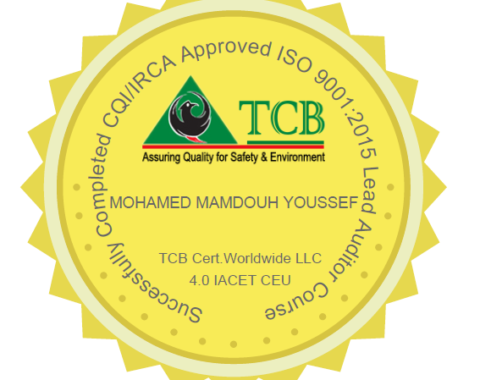 Digital Badge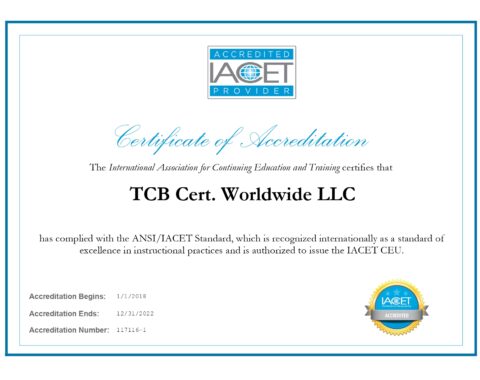 IACET Accreditation
Course Introduction
1
OH&S Terms and Definitions
Concept of Risk
5
Risk Assessment Workshop -Excavation
Accident and Causes
5
5 Why Method of Incident Investigation
6
Accident Investigation Case Study
Incident Investigation-Interview
2
Incident Investigation Interview Role Play
3
Incident Investigation Report Preparation
Final Quiz and Evaluation
Join our "World Quality Day" Event on 10th Nov 2022
Be the first to add a review.
Please,
login
to leave a review