ISO 45001:2018 Lead Auditor Course (CQI/IRCA) In-Person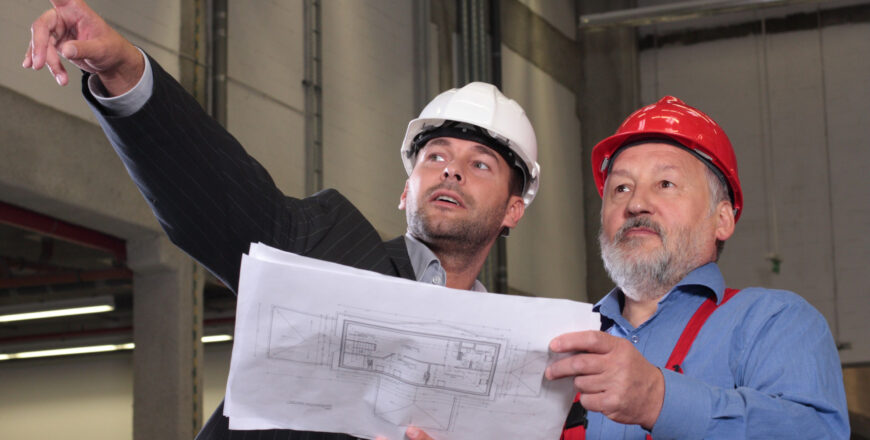 ISO 45001:2018 Lead auditor course is the ultimate certification for OH&S Management System Assessors! Learn how to audit OH&S MS against ISO 45001:2018 standards in accordance with ISO 19011:2018. Upon successful completion, you will receive a CQI/IRCA Approved Certificate. You will also receive a certification issued by TCB as an IACET USA Accredited Provider with 4.0 IACET CEU for global recognition.
About Course-
This course equips the professional with the knowledge & skills required to plan perform and report an OH&S management system audit against the ISO 45001:2018 standard in accordance with ISO 19011:2018.
The course CQI/IRCA Approved course is delivered as standard 5 days-40 Hours, 5 Weekends-40 Hours, 9 days customized (40 Hours) and comes with IRCA Approved Certificate and 4.0 IACET CEU, granted by TCB Cert. Worldwide LLC, an IACET USA Accredited provider as per ANSI /IACET 1:2018 standard.
Learning Process
This course is presented by TCB or its Approved affiliated Partners as fully tutor-guided in-person classroom-based Training. Upon registration, you will receive a set of standards for advance preparation along with an online examination link for your self-assessment and demonstrate your prior learning and readiness to join this professional-level certification course considered to be the highest qualification for the auditors
The delegated shall attend the full 40 hours tutor  Tutor-guided sessions. The course can be customized to be presented in five, Six, or Nine days with shorter duration modules per day for the convenience of the learners. Upon successful continuous assessment based on their performance, contribution, and participation in the workshop, the learners will be enrolled for an online Computer-based examination directly conducted by CQI/IRCA  within 30 days of receiving the link. The learners can practice online examinations for 30 days- up to 99 times to gain familiarity and time management skills. Within 30 days, the learners must write the final examination from their place of comfort. The examination is OpenBook, The learners can refer to the standard, Notes taken during the course, and a dictionary. The learners can not use mobile phones and shall have no access to online resources, the Computer screen of the exam taker shall be shared and the entire examination is recorded by the CQI/IRCA by a state-of-the-art AI-driven proctoring system to ensure the integrity of the examination process. The learners shall be available on their webcam during the entire duration of the examination with a microphone. The exam duration is 1 hour 45 Minutes. For non-Native English speakers writing exams in English, 30 Minutes extra time is granted. There are five sections /modules and in all sections minimum Pass mark is 50% with an average score of 50% needed for successful certification. Within 10 days of writing the exam, CQI/IRCA notifies the result of individual learners  TCB. TCB shall issue the electronic copy of the Certificates to the learners within five business days. You may refer to TCB Guidelines for Online Examination on our YouTube channel for detailed information.
Course Objectives
This course is aimed at professional who wants to
 Develop competence to plan, perform, report, and follow up OH&S Management system audit as per ISO 45001:2018 in accordance with ISO 19011:2018 and ISO 17021 (Latest Standard) as applicable,
 Participate/Lead First-party, second-party, and third-party audits on behalf of the certification bodies for the purpose of independent third-party certification.
ABOUT  CQI/IRCA
The CQI/IRCA, UK is a professional body with a Royal Charter with a footprint of over 100 Countries in the world. For more than 100 years, CQI has been championing organizational excellence by setting professional standards for quality management in the UK and globally.
Please visit the CQI/IRCA Website for more information.
ABOUT IACET
IACET Accreditation is considered to be the most prestigious recognition in USA which is undertaken as per the most stringent and rigorous process as per ANSI/IACET 1:2018- the US standard for Continued Education and Training. This gives IACET accreditation a global recognition of the highest order. TCB is an IACET Accredited provider and is accredited to design and develop courses, administer training, and award the IACET Continued Education Unit(CEU) which is recognized in the USA for maintaining professional recognition and status in the relevant field.
Please refer List of IACET Accredited Providers and Who Recognizes IACET Accreditation.
Qualification & Experience
This course is aimed at professional who wants to
Develop competence in OH&S management system audit
Lead certification audits on behalf of certification bodies or
Develop management systems in organizations as a consultant.
To build a career as an OH&S auditor, the interested participants need to have at least high school level qualification with 4 years of experience. A graduate with a minimum of 3 years of sector-specific experience.
Prior Knowledge Requirements
Participants shall have knowledge of the PDCA model, Process approach to auditing,
 Purpose and benefit of ISO 45001:2018 standard, and
 Familiarity with the requirement of ISO 45001:2018 standard
These areas of knowledge can be gained by attending an ISO 45001:2018 foundation course offered by TCB online
Main Features
Course Introduction
 ISO 45001:2018 Standard Overview
 Workshop Conformity Assessment
 Hazard Identification and Risk Assessment. Workshop.
 Workshop Adequacy Audit for OH&S MS Documentation (Stage 1) as per ISO 19011 and ISO 17021
 Audit Checklist. Workshop.
Roles and Responsibilities of Auditors
Introduction to audit-Process Approach Audit
 Workshop- Audit Plan
 Onsite Simulated Certification Audit (Stage 2) as per ISO 19011 and ISO 17021
 Certification and Accreditation process
 Written Examination
What is the target audience?
Professionals aspiring to develop a career as an Assessor of OH&S MS.
Top-level management personnel.
Operation Managers
OH&S Engineers.
Management Representatives of Internal audit team who establish, implement & maintain OH&S MS in their organizations.
Our Accreditation Certificate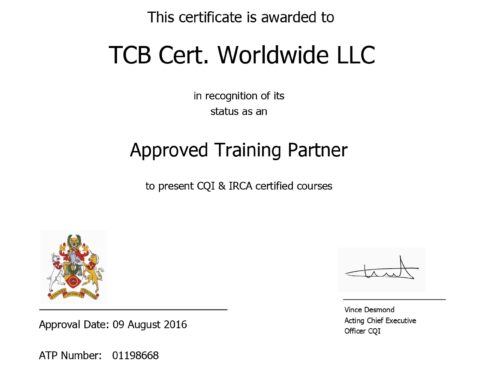 CQI/IRCA Approval
Certificates and Badges You Achieve
Digital Certificate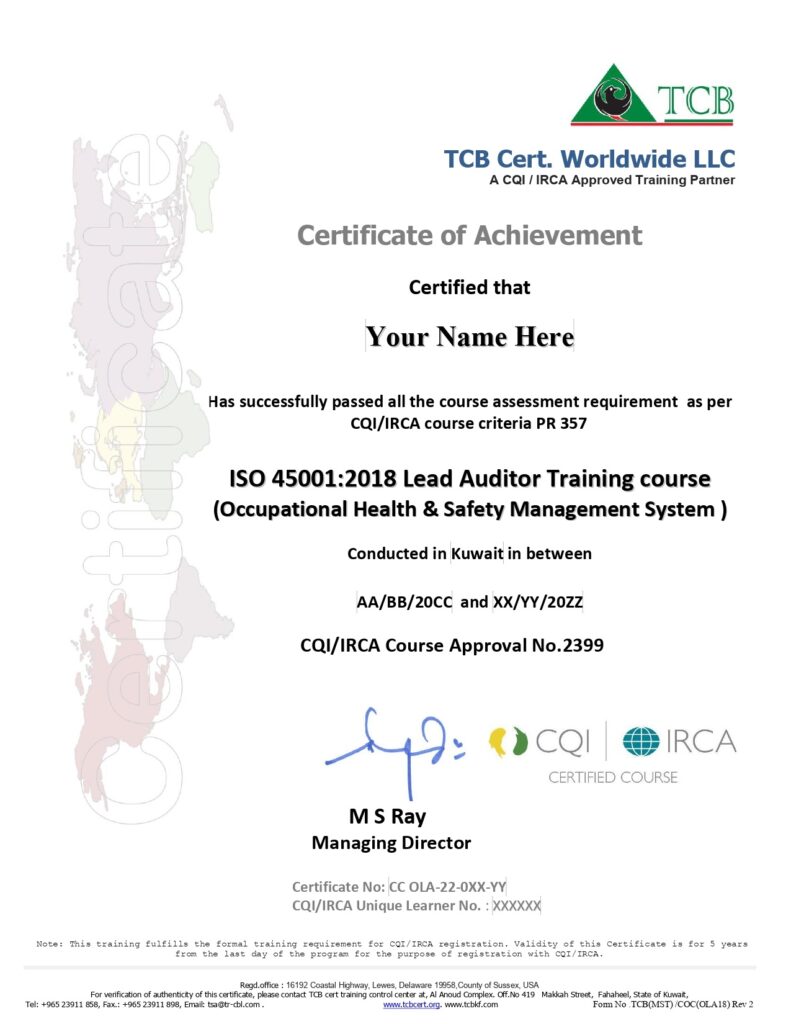 1. Course Introduction
2. Vocabulary Terms and Definition
1
Quality Management System(QMS)
4
Hazards, Risks and Risk Assessment
6
Conformity and Non conformity
7
Correction , Corrective Action
8
Documented, Documented Information
9
Quiz- Terms and Definition
3. Hazard Identification and Risk Assessment
1
3.1 Hazard Identification, Risk Assessment and Controls
3
3.3 -Prepare and HIRA and Control Document based on the Case study
4
3.4 Review a sample HIRAC document and Identify Inadequacies
4. Overview of ISO 45001:2018 Standard
2
ISO 9001:2015 Model and 10 Element HLS
6
4.Context of the organization
11
9. Performance evaluation
14
Case Study-Conformity Assessment 1
15
Case Study Conformity Assessment 2
5. Introduction to Audit
1
First Party Second Party Third Party Audit
2
Audit Process flowchart (ISO 19011)
4
Audit Parameters, Scope-objectives and Criteria
6
2 stage Audit Approach-Stage 1 Audit
7
2 stage Audit Approach-Stage 2 Audit
8
Certification ARudit Process Steps
10
Special Audits-Extension/reduction of scope
11
Special Audits-Short Notice
12
Special Audits- suspension, withdrawal
13
Quiz: Welding Electrodes and Consumables
14
WSE 3 : Adequacy of Documented Information-During Tutor Guided Live Sessions (Case study : Universal Motors)
15
WSE 4 : Auditing Top Management (Role Play During Stage 2 Audit)
6. Auditors Roles and Responsibility and Desired skills
2
Responsibility of Auditors
5
Auditors Behavioral Attributes
8
Auditors Competence Evaluation Process
9
Auditors Observation skill
10
Types and Questions and Auditors Questioning `skill
12
Quiz -Auditors Roles and Responsibility
13
Managing Difficult Situation during Audit -Case 1
14
Managing Difficult Situation during Audit – Case 2
15
Managing Difficult Situation during Audit – Case 3
7. Audit Document : Check List
3
Limitation and Drawback of Check list
4
WSE 2 :Prepare a Check list- for auditing Top Management -Leadership
5
WSE 2 :Prepare a Check List – Purchase Process
6
WSE 2 :Prepare a Check List –measuring and monitoring resources (Calibration)
7
WSE 2 :Prepare a check list-Control of Non-conforming Output
8
WSE 2 :Prepare a Check List – Internal Audit
9
WSE 2 :Prepare a Check List – improvement
10
WSE 2 :Prepare a Check List – Case Study 1
8. Audit Planning
3
Prepare an Audit Plan -Consideration
4
WSE 5.: Prepare an Audit Plan- Workshop Exercise ( During Tutor Guided Live Session )
9. Conducting Onsite Process Approach Audit ( During Tutor Guided Live Session )
1
WSE 6 : Opening Meeting Role Play
2
WSE 7: Auditing Competence Awareness And Training -UMS Case study
3
WSE 8: Auditing Control of Measuring and Monitoring resources -UMS Case study
4
WSE 9 : -Customer Related Process -External and Internal Communication
5
WSE 10: Procurement and outsourcing
6
WSE 11: Planning for Product Realization
7
WSE 12: Product and Service Provision
8
WSE 13: Measurement and monitoring ,NC Output, Release of Products
9
WSE 14: Auditing Internal Audit Process
10
WSE 15: Prepare a Certification Audit Report
11
WSE 16: Close out Meeting Role Play
12
WSE 17: Conducting a Follow-up Audit
10. Credible Certification Process
Certification and Accreditation
3
Principles of Credible Certification
4
IAF , Accreditation and Certification Bodies Hierarchy
5
Credible certification process
CQI/IRCA and Registration Process
Written Examination
1
ISO 45001:2018 Lead Auditor Exam with IACET Accredited CEU, Digital Badge and Certificates
OH&S Management System (ISO 45001:2018) Lead Auditor Course
Examination Link
2
12.2 : Written Exam by CQI/IRCA Online CBT (Certificates issued by TCB with ICQ/IRCA Logo and Unique Learner No.)
Join Our "World Quality Day" Event on 10th Nov 2022
06/04/2022
Be the first to add a review.
Please,
login
to leave a review