CSWIP 3.1 Welding Inspector Training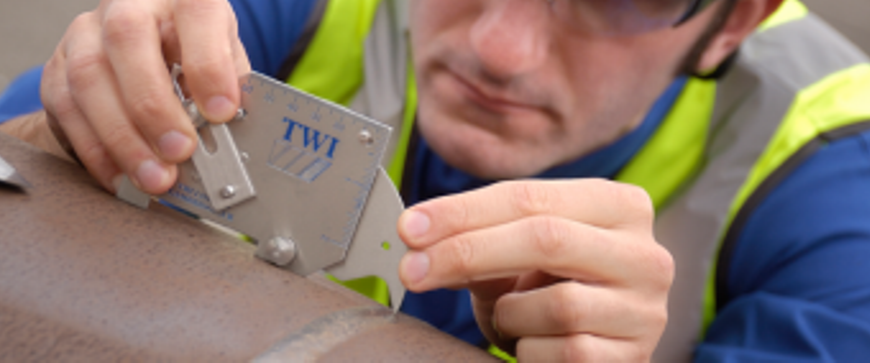 About Course-
CSWIP 3.1 Welding Inspector training course fully administered by TWI is aimed at professionals engaged in the field of Welding .This is one of the most valuable career development course in the world for Welding and Inspection personnel and demanded by the employers, operators in particular Oil & Gas and construction companies.
The Learners need to be in satisfactory physical condition and the eyesight are adequate for carrying out their assigned task.. An eyesight test certificate must be submitted with the application form issued by a medically recognised person, with proof of near visual acuity unaided, uncorrected or corrected in at least one eye, such that the candidate is capable of reading Times Roman N5 fonts or Jaeger Number 1 fonts or equivalent sized letters. These letters shall have a height of 1.6 mm at a distance of not less than 30 cm with one or both eyes on a standard reading test chart.
Course Details-
Need Preparatory support ? Join TCB CQVP Course.
TCB CQVP Course is a stand alone Course which includes Equipment Inspection process in addition to Welding , NDT. Mechanical Testing and fundamentals of Painting and Inspection standard ISO 17020 and ANSI / IACET 45001:2018, a standard for Continued education and training and certification of person with CEU. Learn welding inspection. TCB awards independently administered certification as an IACET USA Accredited Provider.
Eligibility Requirement-
 Welding consumables identity Verification of correctness of welding consumables (electrodes, filler wires, consumable inserts, gases, fluxes etc). Pre-weld inspection Verification that dimensions, fit-up and weld preparations are in accordance with the engineering drawings Preheating Verification that preheat (where required) is in accordance with specified procedures. Post weld visual inspection Visual inspection and dimensional check of completed weldment against specification requirements and drawings.
In-process welding surveillance during welding to verify compliance with specified procedure including any preheat, inter pass temperature control and post heat requirements. Supervision of Visual Welding Inspectors in the conduct of activities (a) to (h) above. Welding procedures Establishing that a procedure is available, has been approved as required by the appropriate authority and is being employed in production. Witnessing of welder and procedure approval tests Witnessing the preparation of test pieces and destructive tests, and verifying compliance with appropriate standards and specifications.
Welder approvals Verification that adequate and valid welder approvals are available, and that only approved welders as required are used in production. Postweld heat treatment Verification that post weld heat treatment has been conducted in accordance with specification requirements.
Reports Preparation of inspection reports.
Duties and Responsibilities
 Welding imperfections
 Destructive testing
 Nondestructive testing
 WPS/Welder qualification
 Material Inspection
 Codes and Standards
 Welding Symbols
 Welding Process : SMAW, GMAW, GTAW, SAW
 Thermal Cutting
 Welding Consumables
 Weldability of steels
 Weld repairs
 Residual stress and distortion
 Heat treatment
 Arc welding safety
 Calibration
 Application in control of Preheat
What is target audience?
CSWIP 3.1 Experience Requirements
A minimum of 3 years experience related to the duties and responsibilities under qualified supervision, independently verified by present or previous employers in the following areas An introduction to the welding processes. Codes and standards. Application of the requirements of codes and standards. Parent material identity Verification against documentation and markings of correctness of parent material.
1
Duties and Responsibilities
Welding Process
Weldability of steels
2
Residual stress and distortion
4
Application in control of Preheat
Demonstrate Your Knowledge of Welding and Inspection
Write the exam in Confidence
Join our "World Quality Day " Event on 10th Nov 2022
Be the first to add a review.
Please,
login
to leave a review